BLS Provider Class Description
The BLS Provider course offers advanced CPR training with the most updated information per AHA guidelines. The BLS provider class is for healthcare-related personnel.
You will learn the importance of high-quality CPR and the significance of team dynamics. Acquired skills can be applied in both pre-hospital & in-facility.
With the modern technology of feedback devices, the students will excel in skills such as chest compressions, rescue breathing, use of AED, & bag-mask devices. Students will be able to recognize and provide care for Adults, Children, and Infants.
Looking take an Online BLS Provider Class?
As a result of COVID-19, we also offer online BLS Provider Classes in the comfort of your own home or office.
Simply click on the button below to check availability for online BLS Provider class. Once registered, you will receive a link to a Google Meets that will take place remotely. You will be joining an interactive online BLS Provider class where you can ask questions and participate in a comprehensive e-learning platform.
Course Curriculum For BLS Providers
Importance of high-quality CPR and its impact on survival
Steps of Chain of survival
1-Rescuer Adult BLS, use of AED and Bag-Mask Device
2- Rescuer Adult BLS
Team Dynamics
Child BLS ( includes 1 and 2 Rescuer child BLS)
Infant BLS (Includes 1 and 2 rescuer infant BLS)
Special considerations, and Adult & Infant choking
What to know about this BLS Course
Course Certification Type: American Heart Association (AHA)
This class is for the following healthcare professions:
EMT
Paramedic
Respiratory Therapist
Doctor
Nurse
Medical Student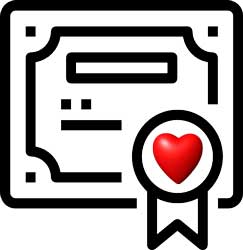 American Heart Association (AHA) Course